See on Scoop.it – ecoNVERGE® – Inspire • Harmony • Balance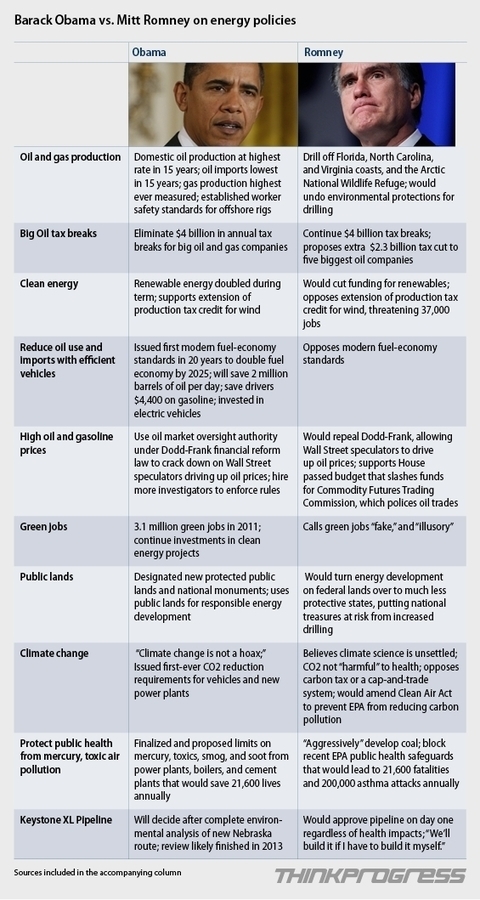 Everything You Need to Know About Where the Candidates Stand on Energy Policy!
ecoNVERGE: In short, the message is clear! Not only Americans should oppose to the opposition, the whole world should stand up and say: "NO MORE COWBOY in the WHITEHOUSE!, Thanks"
There are stark differences between the two presidential candidates that must be discussed on October 3 so Americans have a clear view of the energy path each candidate would lead us down.
The link provides a more detailed direct comparison of their positions on the most visible energy challenges facing the nation. Following this chart is documentation on the candidates' position.
PLEASE read – this is essential to the World! Not just the USA!
Rather then making this discussion political, I like to provoke for your opinions and stands on where the US should be leading its environmental and economic development in view of sustainability for today's issues (social and economic) and towards the next generations?
What are your suggestions for the political leaders?
You can share your views and comments by joining the discussion on LI-group: @ ecoNVERGE – Econological SUSTAINABLE ValueChain SOLUTIONS
https://www.linkedin.com/groups/ecoNVERGE-Econological-SUSTAINABLE-ValueChain-SOLUTIONS-3825482 ;

Thanks for sharing your part of the change!
See on www.altenergystocks.com