See on Scoop.it – ecoNVERGE® – Inspire • Harmony • Balance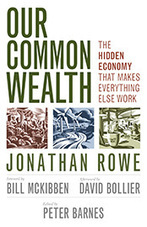 The commons, simply put, is everything not claimed as private or governmental property. It is the multitude of wonderful things we all share, but rarely consider. The commons includes things you can see and touch, as in beach and mountain, but it is also conceptual. It exists when we decide to work together for a common interest rather than in pursuit of individual gain. Some of us, in our own battles in our communities, have long been fighting for the commons—and didn't even know it.
knowledgEnabler's insight:
The commons is under constant assault.
Inch by inch, Jefferson's vision for America is turning upside down. Centuries ago the concept of private property emerged as a means of liberation. It helped break the shackles of royal power and served as a bulwark against the state. But as Jefferson intuited, taken too far, private property becomes another version of what it once opposed.
See on whowhatwhy.com